Orsina's Khmer Ceramics Journey
Orsina's month as a volunteer at Khmer Ceramics Centre was a fantastic journey, brimming with creativity, warm friendships, and delicious food. During her time in here, she actively participated in crafting a new raku line, exchanged ideas about design, found inspiration in the nearby temples, and connected with people from all over the world.We will miss her presence and the positive energy.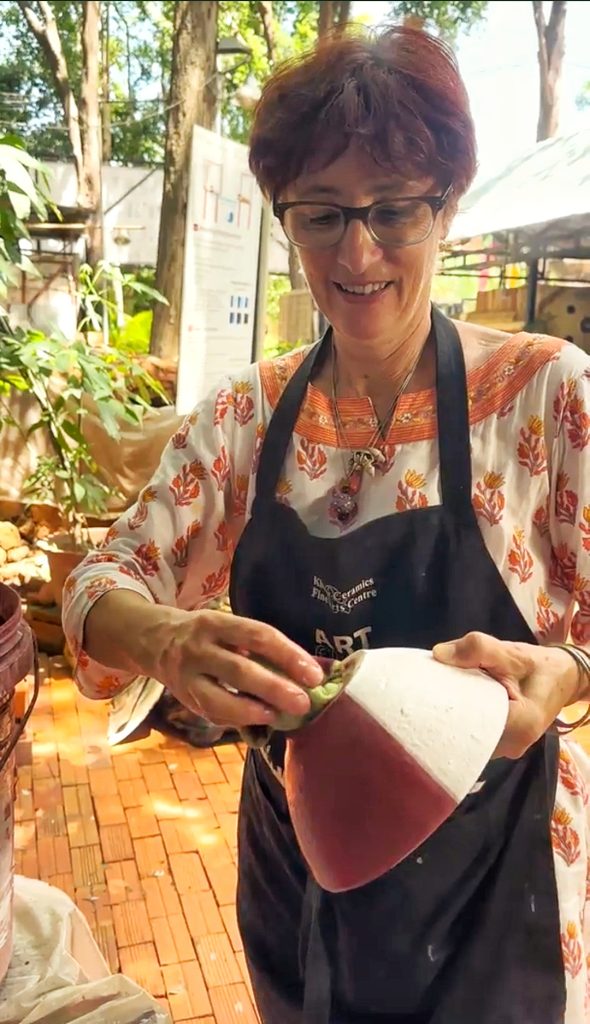 "When I first arrived at Khmer Ceramics Centre, the place struck me with a positive energy.
It was a cloudy afternoon, and I asked to see Serge Rega. I was politely offered a seat at the coffee place, waiting for him to come down from the office. The different activities were going on calmly and steadily, creating a good working atmosphere with no rush or stress, but action taking place, like bees in the hive.
I greatly enjoyed being a part of that hive for about a month and helping Serge think about and work out a new raku line, testing earth compositions, glaze, process, and forms.
Inspiration from the nearby temples is a great source of fuel for Khmer Ceramics and for anyone living near Angkor. So, I researched forms from the past and for the present. Daily discussions about people's needs and desires, and how to match them while keeping your personal vision and creativity, were interesting moments of confrontation, delving into the essence of what design is all about. Besides that, the human factor played a big role. The family welcome made me feel immediately at home, experiencing Solave's cooking every lunch, and exchanging in a fun French/Anglo/Khmer mixture with Kevin and Ulinda, who functioned as translators.
Working in the same space, side by side with Man Chana, Serk Teurm, Ham Somayi, all three deaf-mute, allowed us to develop another kind of communication in an easier way, since we could not have spoken the same language anyway. The way they led classes together, with an initial speaker to introduce the subject, met with great satisfaction from all kinds of people.
In a month, I saw the whole world passing by: Europeans, Australians, Americans, Asians, from all countries, even a group of South Africans. All were proud and happy to put their hands in the mud and turn it into a pot.
And I had the chance to be in contact with many other people, first of all, Panha, responsible for production and all over the place, always so kind and helpful, meeting my needs in every aspect. The skills of the women reworking the rough forms out of the mold to turn them into delicate carvings, the ability of the one who deals with glaze, and the whole staff dealing with the customers in a competent and concerned way— all this fervor positively impressed me."
In short, I greatly enjoyed this type of artist/designer/craftsman residence and hope we'll keep in touch and continue to build a vast network of ceramists. Personally, this experience was challenging and took me out of my comfort zone, forcing me to question my practices, purposes, meanings, and processes. This is precisely what I was looking for, and it embodies the essence of what traveling is all about."
ORSINA VISCONTI