Arts are key for student development.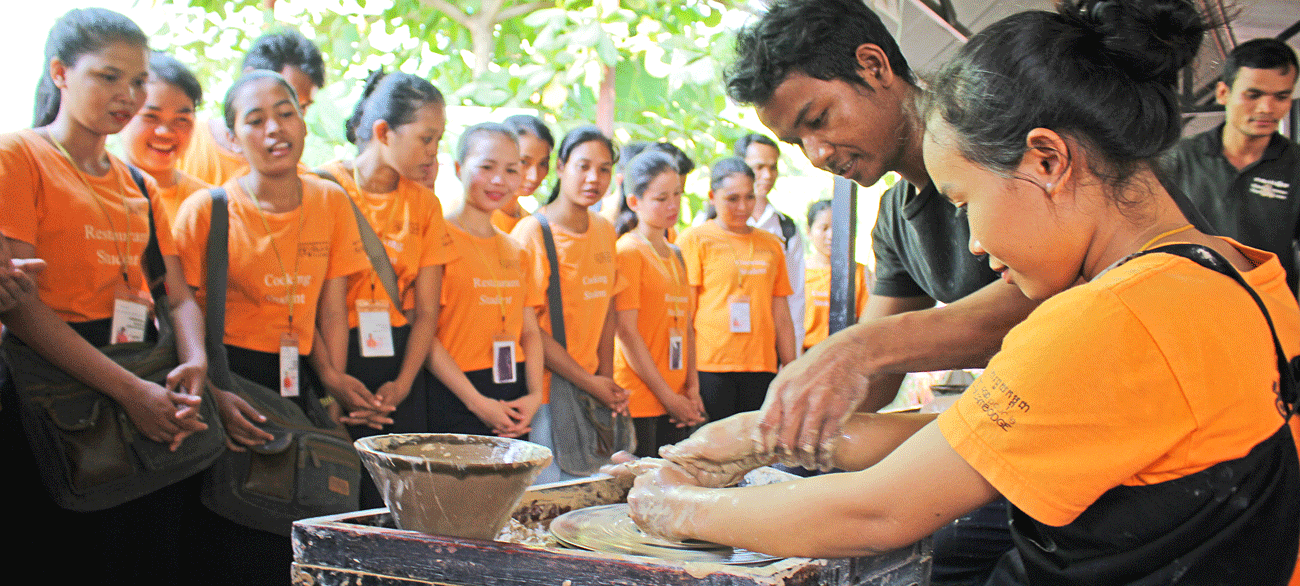 Schools Packages - Educational and Entertaining
Programs can be held:
At our Art Centre in Siem Reap.
At your school or another location as Mobile Classes.
Apply for School Membership:
Enjoy educational and fun art classes.
Book at flexible rates.
Access your membership info with your password
Get instant quote:  sales@khmerceramics.com
Schools Memberships are subject to approval.
Please allow us one working day to get back to you.

Potter Wheel Classe
Clay Modeling Classes
Coil Building Classes
Ceramic Mask Making Classes
Mobile Classes
Potter Wheel Classe
Age: From Primary School to High School (ages 6-17), and up.
Duration: 1h45
The Experience: Each child will make their 5 very own pots on the potter's wheel and afterward decorate their creation using carving technique. Students will have the opportunity to discover the shaping of the matter using one of the older tools developed by humans. The student's masterpiece will be left to dry thoroughly before they are fired.
Classes include:
– Demonstration on how to get started, and assistance by expert Potter.
– Making 5 pots on the pottery wheel and decorating the pots.
– Choose 1 piece for firing.
– A "Cambodian Potter Diploma".
– Use of all art material.
Remarks: Pots will be ready to collect from the studio approx. 5-6 weeks later, or return of work can be arranged. Final colour of the pot is glossy green.
Clay Modeling Classes
Coil Building Classes
Ceramic Mask Making Classes
Mobile Classes
Share our knowledge with younger generations.
As a social enterprise, one of our major activities is sharing our passion with younger generations about pottery and the history of Cambodian ceramic art. We offer school groups the opportunity to visit Khmer Ceramics & Fine Arts Center in Siem Reap, Cambodia. Children can participate in pottery and painting classes as well as other educational activities.
School and college groups from the local community and educational organizations visiting Cambodia from abroad have been coming to our center for many years. Children and older students have always enjoyed participating in school groups activities that provide an interesting, unique, interactive and fun way to discover ceramic art and the history of Khmer pottery.
Our school group packages include a tour of the center, which will immerse children in hundreds of years of Khmer art and culture. They will also benefit from a pottery class or ceramics painting class in which they will meet and work with local craftspeople eager to share their knowledge and skills with younger generations.
Students will learn about the origins of man-made fire from about 40,000 BC and the earliest pottery to the unique ceramic art of the Khmer era through to modern techniques.
The pottery class or ceramic painting class enables each student of the group to go home with their own unique artwork – as well as unforgettable memories. All pieces made by children during the activities can be personalized with the name of the student or the school, for example.
Our ten years of expertise and experience has allowed us to accommodate school groups from across the globe and from local schools across many age ranges. We can accommodate groups from kindergarten age to university students. We adapt and personalize each visit to the center, the explanations offered by guides and the activities based on the age of participants.
Our tours are offered in Khmer, and English (let us know if you need translator).
In order to contribute to spreading our passion for Khmer art, we offer substantial discounts on our school group packages.
Please do not hesitate to contact us directly about visiting the center. Our school groups activities will will give children the chance to participate in a unique and entertaining educational experience with our .