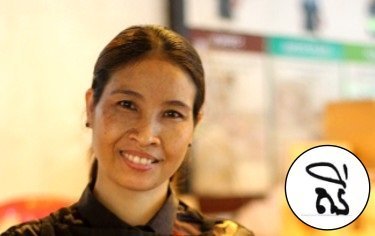 42 years, Smoothing the Shapes and Glazing.
As I started working in Khmer Ceramics I was really surprised to see glazed ceramics. In the Floating Village, where I'm from, most of the ceramics aren't glazed, it's always the clay color. From my childhood I was considering it to be a lost technology. 
I feel really inspired to see Khmer Ceramics reviving the ancient technologies of ceramics production of my motherland and to become part of it. I enjoy the working conditions and my colleagues, who are extremely sympathetic and kind.
Now I'm working on the part that mesmerized me the most at the beginning – glazing ceramics. In addition, I make the final raw forms look smooth, so the final ceramic shapes look perfect. That's amazing to feel part of something bigger and see the results of my job in real life.