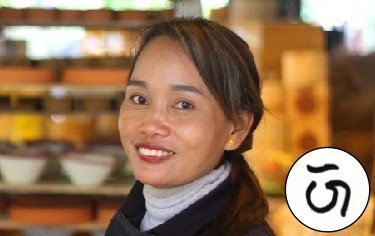 37 years, Glazing Specialist.
I was born in a small town in Thailand in 1985. At that time there were special organizations, who helped Cambodians who immigrated to Thailand during Pol Pot's Regime to return back to their motherland. So at the age of 6 me and my family arrived back home.
As I grew up I started working as a cooker in one of the local Hotel Restaurants. One day I decided to quit and was searching for a new working place. By coincidence, I've seen an advertisement on the street that Khmer Ceramics is hiring.
First, I started as a packager and slowly moved up the career ladder. After packaging, I started to make molds for ceramics, then I was rolling slabs for ceramics plates. With time I started to make attempts to work with glazes. The Director noticed that I have a natural talent for glazing and from that time that's what I'm doing. I really like the process and it's such a fulfilling feeling when you take the fired pieces out of the kiln and can enjoy the result. During the years I learnt a lot about Khmer Culture, local carvings and even some ancient khmer language.